CADMATE Best AutoCAD Alternative
Cadmate is a cost-effective and the best alternative to AutoCAD and other Cad software. Cadmate comes in two flavors Standard edition and Professional edition. While Cadmate Standard is a feature-rich alternative to AutoCAD LT, Cadmate Professional is an alternative to AutoCAD 3D.
Zero relearning cost for Autocad users
With most commands, tools, toolbars, menus, palettes, etc. being the same or similar, AutoCAD users start mastering CADMATE in minutes.
Feature Rich & cost-effective
Low-cost alternative, CADMATE comes to you at a fraction of the cost of some major CAD platforms available today. 
Light on System Resources
Utilizing negligible system resources, CADMATE is fast in opening, editing and saving several drawings simultaneously. Robust with the latest CAD tools, features and functionalities. 100% compatible with other  CAD platforms.
CAD Perpetual Licensing Model
Cadmate is available as a "perpetually licensed" product. You own the perpetual right to use the purchased license. It is more convenient than  subscriptions based licensing models, which force you to upgrade irrespective of the requirement to do so.
CADMATE 2020 - Ease of Use
CADMATE Drafting 2020 offers you a concise and familiar interface which is easy to custom. You will enjoy the working environment in different ways in this version.
You will be able to display and rearrange elements like the toolbars, display the command bar, switch between workspaces, change the interface themes, customize your own interface and enable the status bar.
The toolbars and command bar can also be floated anywhere on the screen or docked as well.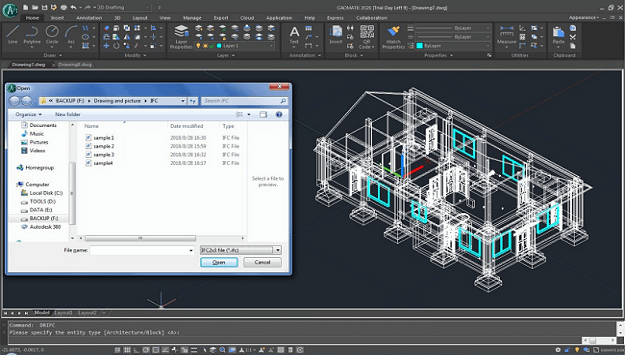 3D improvement with .IFC format import and export
Cadmate 2020 makes great effort in 3D, with the comprehensive reconstitution for the 3D system, improved 3D performance, display effect and accuracy. Therefore, view and edit the 3D model are more accurate and fluent in this version. You will get an unprecedented 3D experience in Cadmate 2020.
Cadmate 2020 supports IFC file format import and export. IFC (Industry Foundation Classes) is a popular format used in the building and construction industry that provides interoperability between different software applications. Since IFC format supported in Cadmate 2020, you can import and export standard IFC file format, as well as view 3D models by category and operate in Cadmate 2020 conveniently.
CADMATE Authorized Reseller Partner
Maven Techsol is an authorized reseller for CADMATE, based out of Hyderabad catering to customers in India. We provide software licenses at competitive prices, and we offer pre-sales and post sales support. We provide timely updates on new product launches, version upgrades, increase in prices to all our customers.
Call us at 040 - 3584 6020